/

Old Sundarban hilsa Festival 2022 | Sundarban Ilish Utsav
Synopsis
Sundarban Hilsa Festival 2021 – As we traverse through the waters of Sunderbans in the monsoons, we organize a Hilsa fish festival that has become a part of our Sundarban Tour after its tremendous success.
Since both Sundarbans and Hilsa fish are significant facets of West Bengal tourism, we thought of combining them and make Sundarban ilish Utsav a part of our Sundarban Tour Package. This contains a host of mouth-watering Hilsa fish recipes which will keep you craving for more.
With the rains comes the king of fishes.
Since ages, this has rung true for foodies and fish-lovers of Bengal and Eastern India. Visitors in this part of the year always make it a point to taste the variety of sumptuous Hilsa fish recipes that the cooks here have to offer.
Although we had had this in mind since the start of our journey some 10 years back, we never got to implement it till last year August. Honestly, we were shocked by the huge response we got in our very first year. So much so, that we had to reject a lot of people as there is a dearth of sufficient accommodation in the Sunderbans.
Hence this year, we thought of arranging the Hilsa fish festival on, not one or two, but FOUR Fridays in the month of August, so that many more people can participate and enjoy this festival of the King of Fishes.
As you know, we organize a host of programs in our Sundarban tour package which include Jhumur dance (a local folk form of dance) performance and also a street-play which depicts the tale of their local deity Bonbibi, who is worshipped by these delta-dwellers to seek protection against the Sunderban tiger. Apart from these, there will be Baul (folk song) performances, quizzes, games, and much more. 
All these will also, be included in our Sunderbans tour package along with the festival of Hilsa fish.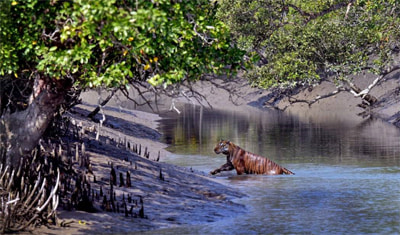 Dates
| | |
| --- | --- |
| August, 2021 |  6, 13, 20, 27 |
| September, 2021 | 3, 10, 17 |
Precautions for COVID 19
Regular Thermal Screening test for Guest, Boat Crew, Manager before the tour.
We will provide Face Mask for all Guests.
Daily Boat Sanitization.
To ensure Social distancing, tourist capacity shall be reduced by 50% in Boat.
Fully Sanitized Car for pickup & drop service (Chargeable).
Brief itinerary
Day 1 :
Activities: Explore Gosaba Market, Visit Hamilton Bungalow (Rabindra Nath Tagore Bungalow), Becon Bungalow Bungalow, a walk to the remote Island ( Village walk ).
Kolkata to Canning –
Meet & greet at Sealdah Railway Sation Our experienced Sundarban Hilsa Festival tour manager will welcome you.
Do you know? Sealdah is one of the busiest railway stations in India and also the second-largest railway station in India.
Reporting time will be 7.45 am. Train Ticket is including in this Package, so just relaxed train ticket will arrange your tour Manager.
Our journey starts from Sealdah Station by Canning Local train at 8.28 am and reaches Canning Railway station around 9:50 a.m.
Canning to Sonakhali –
Our tour Manager will pick up the team after reaching Canning Railway Station for Sonakhali Ferry Ghat and board a cruise.
Start Cruise Safari –
Breakfast with packaged drinking water will be served by our catering team on the cruise. Please keep in mind that Sundarban is a plastic-free zone, & must remember we don't through any in the River like a disposal teacup, tissue paper, or anything. Sundarban National Park is a gem in every aspect, so we don't pollute it. 
Explore Gosaba –
Now we will start for Gosaba Island, it will be 2hr journey. Our destination will be two historical places named Becon Bungalow and Hamilton Sahib Bungalow, which is situated in Gosaba Island. The history and heritage importance of two bungalows will be heard from our Sundarban ilish Utsav tour guide.
You can Also explore Gosaba Market by own, test some local food, chat with local people about their livelihood.
Entering the World Heritage Site –
After visiting Gosaba Island we will Start for Sundarban National Park, through our boat. We sail through the narrow creeks named Durgadoani. After 1 hr sailing, we will reach the confluence of Vidya river where you can get the first look at Sundarban Tiger Reserve.
Now you have the opportunity to get in touch and stay thrilling for three hours on the lap of the wild nature of South Bengal. Here on the lap of nature with purity, we arrange a buffet lunch for our tour members.
Land of Royal Bengal Tiger –
You will have the experience of witnessing the amazing mangrove forest with Sundari, Garan, Geoya, Golpata, etc, and varieties of birds. It is high time to witness the royal presence of the Royal Bengal Tiger of India and everybody should be alert and cautious as this king of the beast can move silently. They can jump, swim, run and climb fast to attack. So get ready with your cameras whether it is movie or still, no matters- tiger will not give you pose to take snaps.

5.00 p.m to 6.00 p.m | Birds Watching Session.
Our next destination is 'Birds Jungle' local name 'Pakhir Jungle'. It's a heaven for birds wathers.

7.00 p.m to 9.00 p.m | Enjoying Traditional Drama & Folk Music based on Sundarban.
After long festi-tour you will enjoy a delightful local folk cultural performance of local tribal artists.

7.00 p.m to 9.00 p.m | Hotel/ Resort.
Some times to freshen up and relax, then dinner will be served in hotel/Resort or Cruise.
Day 2 :
6:30a.m to 7:00a.m | Start Safari with Breakfast.
We will start our journey to Sundarban Boat Safari early in the morning after bed tea.
12:30p.m to 1:00p.m | Bagna Forest, Marich Jhapi, Burir Dabri, Bangladesh Sundarban.
The tour team will be reached at the tower of Burirdabri by the strong supervision of tour Sundarban Govt. guide.
2:00p.m to 6:00p.m | Lunch & Proceed to Hotel.
Now it's time for the lunch break. Evening tea/coffee and snacks will be distributed on the cruise among the team members.
9:00 p.m to 10:00 p.m | Jhumur Dance (Traditional Folk Dance by Sundarbna Girls).
you will enjoy a delightful local folk Dance performance of local tribal Girls.
3rd Day
Sajnekhali, Sudhanyakhali, Do-Banki, Sarakkhali, Panchamukhani, Deul Varani, Bonbibi Varani, Netidhopani, Gazikhali, Pirkhali, Jharkhali.
Sundarbans package tour
6:45a.m to 7:00a.m | Sajnekhali Tiger Reserve, Interpretation Centre.
Today we will start another adventurous tour of the Sundarban through the cruise. Sajnekhali Tiger Reserve Jungle Safari is the destination of today and the entire team are guided by a naturalist and experienced Sundarban Govt guide.
9:00a.m to 2:00a.m | Sudhanyakhali, Pirkhali, DeulBharani, Bonbibi Varani.
Our next destination is Sudhyanyakhali, which is also a Tiger Reserve. This watchtower is famous for a maximum number of time Tiger Sighting. then our journey start for small creeks like Sarakkhali, Gazikhali, Pirkhali, Deul Varani, Bonbibi Varani, and many are covered in this route of Sundarban mangrove tour.
02:00a.m to 3:00p.m | Panchmukhani, Dobanki Tiger Reserve.
Near about this 2:030a.m we will arrive Do-Banki Tiger Reserve Camp via Panchamukhani. It will facilitate the entire group to experience the canopy walking.
03:30p.m to 3:30p.m | Jharkhali Tiger Reserve.
The cruise will be floated for visiting Jharkhali Tiger Camp and watchtower.
sundarban jungle cage
5:00p.m to 6:00p.m | Back to Sonakhali.
It is time to finish the 3days 2nights travel package for Sundarban.
8:30 p.m | Happy Ending with unforgettable Memories.
Although the tour to the Sundarban program will be limited to 3days and 2nights, a deep relationship among all members will grow in such a manner that it will be a great memorable event in your life. The entire team will be reached Kolkata safely by 8:30 p.m.
Safari highlight
Sundarban Wildlife Photo Safaris highlights & updates – 
If you are looking for a "wildlife tours near me" then this is a complete 5/3 days Wildlife Photo Safaris tour with no halts cruising through the major creeks of the national park of Sundarban attempting to cover the major and the minor sighting
Expert at work – More than 10 Year Experience guide come photographer Samir Sarkar, alongside best Forest Guide experience making this a major success.
To celebrate the wildlife photography holidays we have our own 'LA FIESTA' cruise with 6 cylinder engine for fast movement,  minimal noise, and less pollution.
This wildlife photography tour is designed by the joint effort of a team for the best wildlife holidays, comprising of experts photographers, naturalist, and a local guide.
We will be accompanied by the crew member who was either a fisherman or a honey collector before, their experience enriches in this Tiger Safari India Tour.
Recommended equipment
Telephoto lenses preferably above 400mm.
Wide – angle lenses for landscapes and habit shots.
Extra Camera batteries and memory cards.
Binoculars.
Mosquito repellents (If you wish to).
Sunscreen lotions.
Forest – friendly clothing.
Species to Photograph
Mammals like – Royal Bengal Tiger, jungle cat, Fishing cat, Leopard cat, Oriental Small-Clawed otter, Oriental Small-clawed Oter, Irrawaddy Dolphin, Spotted deer.
Reptile Like – Estuarine crocodiles, Water Monitor Lizard, King cobra, Red-tailed (Bamboo) Pit Viper.
Winter birds like Brown-winged kingfisher, black-capped kingfisher, Peregrine falcon, Grey-headed Lapwing,
Monsoon birds like Ruddy kingfisher, Mangrove pitta, Mangrove Whistler.
Birds which can be seen round the year are – Collared kingfisher, Lesser adjutant stork, Brahminy kite, Changeable hawk eagle, Crested serpent eagle, osprey, Shikra, White-bellied sea eagle, Lesser Yellownape, Changeable Hawk Eagle (both dark and pale morphs), White-browed Scimitar Babbler, Chestnut- capped Babbler,  and Buffy Fish Owl.
The Safari Boat
What is so Exceptional about our Wildlife Expeditions Safari Boat?
Our sole love of this Sundarban Wildlife Photography in India Tour for the Wildlife Expeditions is our very own creation – our cruise – "LA FIESTA," a camouflaged, totally unnoticeable object build to hide in the woods. This helps us to move even closer to our creatures without getting noticed. Our skillful and competent workers have put a lot of effort to build this specialized boat, keeping in mind the nature of the forest.
Features to look for when on the cruise for the Wildlife Expeditions –
6 Cylinder Boat – Our cruise is a 6 cylinder boat with less vibration- making it a perfect match for a wildlife photographer to take that clear click. Our visitors can take their best shot without any engine noise and no shaking whatsoever
No seepage issues because of the brilliant work done towards the construction of the cruise.
Our "LA FIESTA" comes with an added advantage called the smooth reversible gear, helping the cruise to move in all directions within spilled seconds. This always helped our photographer visitors take that quick shot whenever required.
The inbuilt Genset and Back-up battery helps our wildlife photographers take those uninterrupted photographs for days without running out of those batteries and posting the photos on time while keeping their laptops and phones charged all the time.
Our Cruise is divided into two decks – Upper and Lower – Lower Deck is solely prepared to keep in mind the need to rest after a hectic shoot day. Though in a system of the dormitory, still separating it with the other beds with the help of curtains on each side and window on the other side, ensuring privacy while you are charging up for the next morning of the best safari in India.
Keeping in mind the safety and security, our upper deck is protected with the complete construction of the railing on all sides.
Our Upper Deck also has a tent for up to 3 -4 visitor simultaneously
Note – We do not prefer more than 8 to 10 visitor while on the trip maintaining the sanity and interest of the trip – lesser the people, more the silence.
Price & inclusion
Price: INR 23,900/- per participant inclusive of all taxes. 25% of the amount needs to be paid as a booking fee (non-refundable). Balance 75% to be paid 90 days prior to the departure date.
6 Pax – 23,900/-
4 Pax – 29,900/-
2 Pax – 42,900/-
Cost Includes – 
5N Accommodation in Houseboat.
All permission, Guide charges, Entry fees.
Night stay at Boat.
All Meals.
Mineral Water.
Video Camera Charges wherever applicable
Any extra Meals
Cost Excludes –
Kolkata to Kolkata by car transfer
Hotel Accommodation (if any).
Tips to Guides/ Crew member.
Movie Camera Charges.
Any item not mentioned in the "inclusion" list.
Cancellation Policy –
All cancellation requests must be sent through email to sundarbanwildlifeexpedition@gmail.com The refund policy mentioned below will be applicable to an amount outside of the 25% booking amount.
All cancellations before 90 days from the departure date: 100% refund.
All cancellations between 60 – 90 days from the departure date: 50% refund.
All cancellations between 31 – 59 days from the departure date: 25% refund
All cancellations within 30 days from the departure date: No refund can be made. We are sorry!
Gallery